CRAYON COLLECTION
FOR CORPORATIONS
Crayon Collection supports art education and sustainability in underserved classrooms by diverting crayons from the landfill to Title 1 Schools and Head Start Centers in your community.

Team Building Volunteer opportunity:
Crayon Collection's Color Kindness Program is an easy to implement and

impactful

program for any group of volunteers.
– Volunteers sort & pack a variety of 10-12 crayons into our pouches –

fill out this form to order pouches

today.
– Next, volunteers create a note of kindness to insert with the crayons, which the recipient child will cherish.
Your team will find a vulnerable school or organization in your community and coordinate a drop-off plan for the Color Kindness Pouches. Let us know the receiving school or organization contact and we'll send along our free standards compliant Art Education Program.
We loved hearing how relaxing this process of sorting and packing crayons was for the team members. It was a time to give back in a collaborative and meaningful way. The culture of the work place dynamic changes significantly when a charity is brought in and volunteering as a team is made possible.
Crayon Collection is a team building experience that allows corporations to bring groups of employees together for a fun and innovative volunteer opportunity. The ever nostalgic crayons bonds peers in a meaningful and focused way.
Studies have shown that art education helps to increase comprehension of STEM and literacy concepts as well as offering students an outlet to process trauma, develop self-discipline and self-management, and interpersonal relationship skills.
Many times the crayons students receive from Crayon Collection are their first pack of crayons ever, which truly impacts their life.
Billions of crayons are produced each year, with millions ending up in landfills where they never decompose.
9 out of 10 teachers report having to spend their own money on school supplies – an average of $900 out-of-pocket in 2017
Over 80% of school districts in the U.S. have reduced or eliminated art education as a result of budget cuts.
We appreciate all the volunteers who make our work possible.
We partnered with Microsoft to pack and donate 750 lbs of crayons, that equals 75,000 crayons! Microsoft engineers worked together for an entire month to create 3,000 Crayon Collection pouches to benefit vulnerable schools near the Seattle area.
This was all made possible thanks to an artist in Indianapolis who contacted us with an enormous crayon donation. She held onto these crayons for years because she was looking for a way to donate them, then she found us.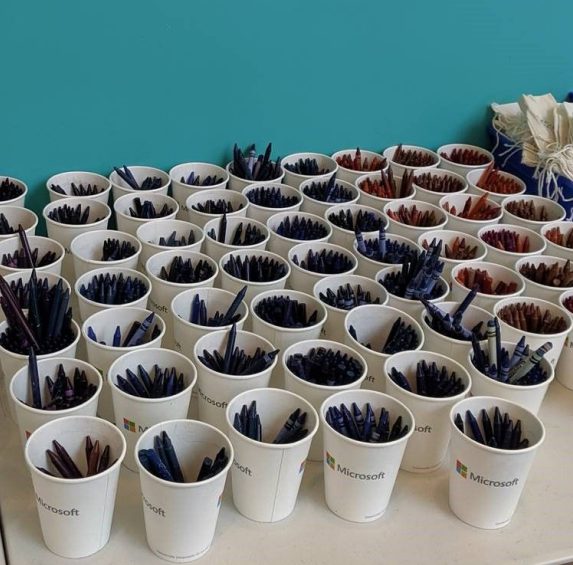 We are grateful to the hundreds of volunteers who work with us throughout the year to give back and bring the joy of a crayon to a child in need.
Our crayons go to kids in all 50 states as well as 10 countries. Most recently, we sent yet another shipment of crayons to the border of Mexico and California. This was the 4th time we made this donation happen.
To start your volunteer opportunity contact us at info@crayoncollection.org
Help us continue getting crayons in the hands of vulnerable kids!