Everyone can make a difference!
Follow the steps below to learn how to start your own Crayon Collection.
START YOUR OWN CRAYON COLLECTION
Spread the word! Inform EVERYONE that the Crayon Collection is on. Ask around for crayon donations.
Download our printable flyer
to hand-out.
Ask local restaurants that provide crayons to kid diners if they would be willing to add to your collection.
Take photos or videos of your crayon donation and post your progress on social media using hashtag #CRAYONCOLLECTION. We might repost it!
We've calculated that 2,500 crayons fit into the standard, brown paper grocery bag.
Fill out this form with your progress and we'll reply with a special thank you.
Each year, over 150 million non-decomposable crayons
are thrown away by restaurants alone.
Crayon Collection has a solution
Through our Crayon Recycling Program, anyone can establish partnerships with their local restaurants and hotels that distribute free crayons to children when they dine.
Instead of throwing these crayons away after each meal, we introduce our crayon collection process for each location and ensure these gently used crayons are donated to local schools that can put them to good use!
By up-cycling these crayons, we are able to not only get them into the hands of children, but we also make available Art Education lessons that teachers can use in the classroom, year-round.
Please ask your local community center, church, temple or library for permission to set up a Crayon Collection bin so that you can generate tons of crayons at the drop off location. Tell your friends about it, too. Read more.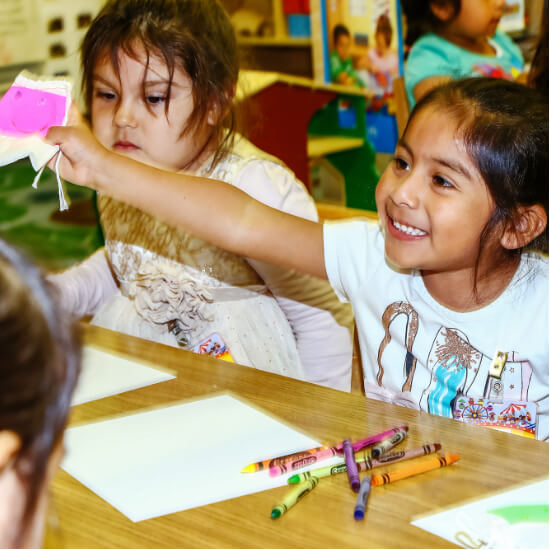 In virtually no time at all, thousands of crayons can be collected, then donated to vulnerable kids and schools, which definitely helps the environment!
Plus, by letting your local schools know about Crayon Collection they also have access to our downloadable Art Education Programming!
Look for an institution you can share your donation with.